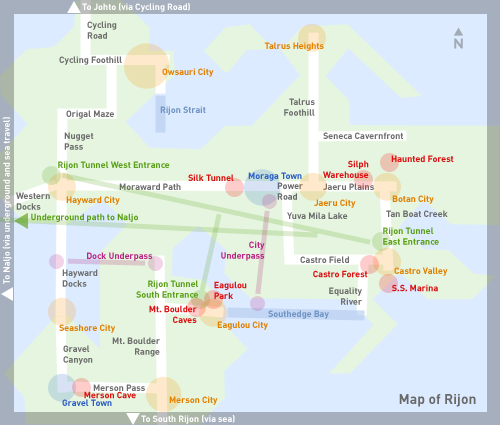 To those new to the Rijon Trilogy, you probably don't know what the region of Rijon is.
Rijon first appears in Pokémon Brown. It consists of numerous cities. First, you probably should know where you start—Seashore City. Seashore is one of the cities in the southwest area of Rijon, known for many mountains and caves. Many cities and forests the west to the east areas of Rijon. The eastern area is particularly known for Castro Valley, which is a harbor town. The southern area of Rijon consists of the sea and nothing more.
Geographically in the Rijon Trilogy canon, Rijon is located south of Johto; there is a small island in Johto which connects to the region. West of Rijon is the Naljo region, which is featured in Pokémon Prism. And new to rijonAdventures is South Rijon, which is south of the Rijon region, accessible from Merson City.
There are a lot of things in Rijon that I'll detail in later entries. Stay tuned!
Originally posted on the old Rijon website, now offline. Archive link.