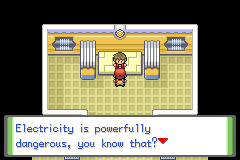 The third gym leader has only really appeared in the latest rijonAdventures beta, and his backstory isn't really all that large. Scott is an eleven year old Pokémon trainer. Actually, no, he's a Gym Leader of Jaeru City. And, despite his age, he's more than just a Gym Leader.
Scott is an electrician, and works at all sorts of places. Though he's seen with his retired father who tries to constantly tries to advise him how to work, he doesn't need it. He's that smart. And because he's often doing small electrical jobs, you may not actually be able to get to his Gym (in the final version, of course).
Oh, and, as his trade is electric work, his favorite kinds of Pokémon are also of the electric-type.
Originally posted on the old Rijon website, now offline. Archive link. The original screenshot (assuming it was a screenshot, it may have been artwork) in this blog post has been lost. It has been recreated based on the surviving text.